Ambition Statement
It is our ambition for our children to be confident in themselves but also in their role as citizens, both local and global. We aspire for the children to value that which demonstrates their own personal qualities, prized above all else as the skills that will enable them to thrive into adulthood. This includes those attributes that will enable them to relish learning and seek to want to know more about the world and their role in its future.
HUMANITY
~ Having A Voice ~
Diversity, Fairness, Individuality
INNOVATION
~ Seizing The Chance ~
Truth, Change, Resilience
THE WORLD
~ Being The Change ~
Responsibility, Equality, Sustainability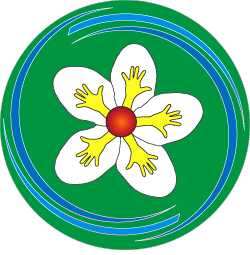 How our school logo helps us to remember the ambition for our school:
Grass of Parnassus
...the flower of wet and wilderness as depicted on the flag of Cumberland. This represents our commitment to the rich and varied heritage, landscape and social dynamics of Cumbria. It is vital to us that the children have a strong sense of their local surroundings and a pride in where they are learning.
The hands
...represent the ambition of HUMANITY within our school and curriculum with the conceptual drivers that confirm our commitment to widening our children's experience and field of reference.
The red circle
...in the centre of the flower is a red circle which represents our ambition of INNOVATION; from a tiny seed, great ideas begin. Our conceptual drivers support our commitment to developing the whole child in respect of their learning behaviours and the aptitudes they need to develop to become life-long learners.
The blue swirls
...represent the focus of THE WORLD and the importance of having a global outlook. Our conceptual drivers confirm our commitment to ensuring that children understand their role as global citizens and having the confidence to make a change.