School uniform
The uniform for Cumwhinton School can be bought anywhere - it is important to us that our families have the ultimate choice, particularly around the price of their child's uniform. The school badges, can be bought separately from school at the cost of £1:50 each; these can be either ironed or sewn onto any make of blue jumper or white t-shirt. Alternatively, the badge can be reused when uniform is outgrown. Any family who would like support with uniform should contact admin@cumwhinton.cumbria.sch.uk
Cumwhinton School has a school uniform policy, which has been approved by governors and is well established. All children throughout school must be in full school uniform at all times.
Our school uniform consists of:
White or royal blue polo shirt or white blouse/shirt – completely plain or with school logo.
Royal blue sweatshirt, jumper or cardigan with or without a school logo
Grey or black trousers, shorts, skirts, shalwa kameez or pinafores – all completely plain, with no patterns, logos etc.
Plain grey or black tights or socks
In the warmer weather, blue and white check dresses/ playsuit may be worn.
Plain black, low heeled shoes or boots (sandals and flip-flops are not appropriate)
Children in KS2 are taken swimming. Items for swimming should be appropriate for school lessons. I.e. One piece swimming costumes for girls and trunks or shorts for boys that are above the knee. Goggles are also advisable.
As part of our commitment to Outdoor Learning, we ask that children have a pair of old wellies that can be stored at school.
All items should be clearly labelled with children's name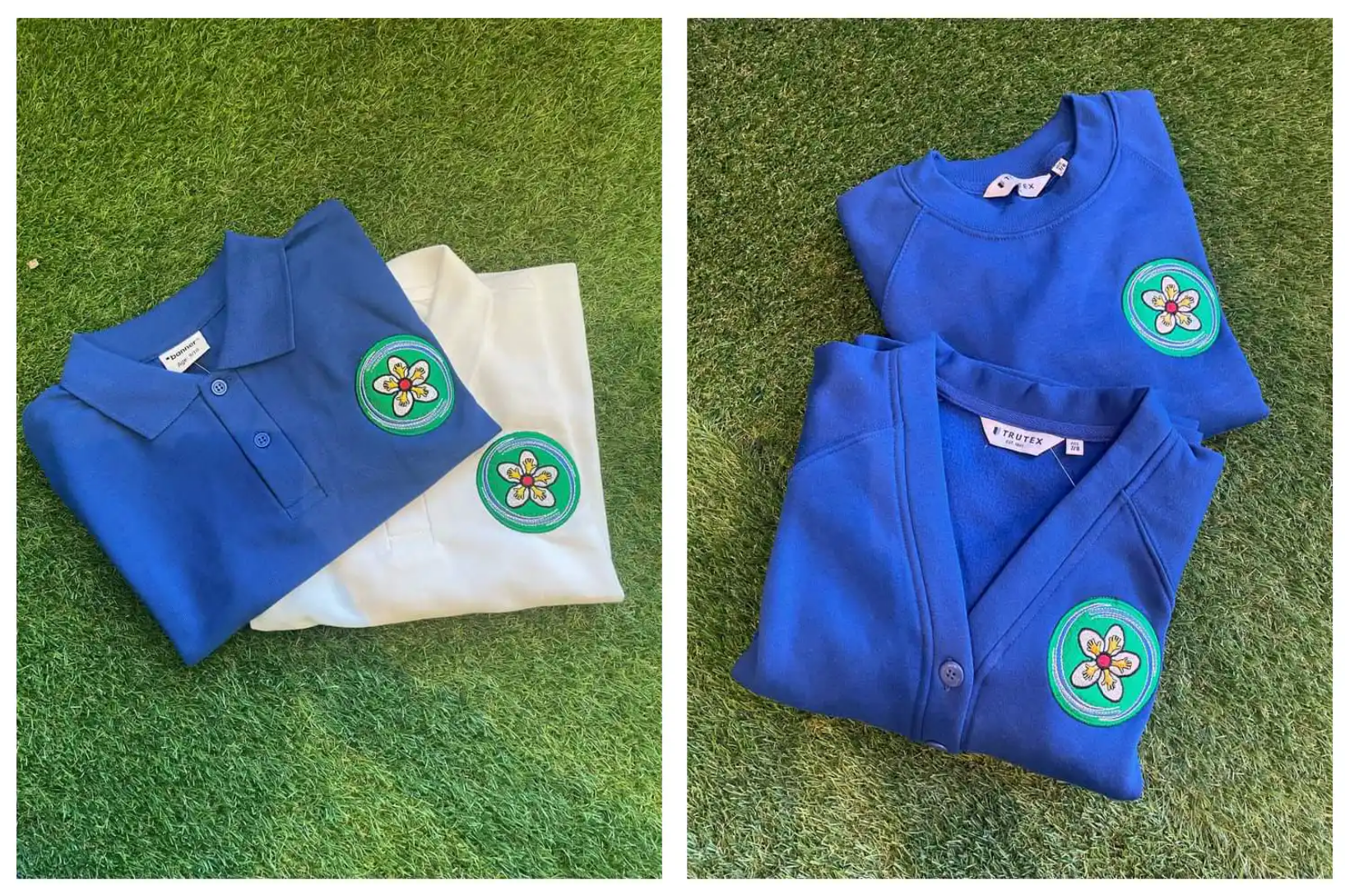 PE & Swimming
Teachers should let parents/carers know which days are timetabled for PE and swimming and remind children to come to school dressed in their PE kit and to bring their swimming kit on the days that they need them. All swimming kit should be brought to school in a suitable bag and hung on the hooks provided.
For health & safety reasons, children need for P.E:
Plain white t-shirt- no branded or logos/football shirts
Plain black/navy shorts
Suitable trainers
School sweatshirt and plain black/navy tracksuit bottoms for outdoor PE in colder weather – no logos or branding
Or, school PE tracksuit
A swimming costume or trunks and a towel are necessary for swimming. No bikinis are allowed in the swimming pool. Swimming caps are recommended for long hair.
All items should be clearly labelled with children's names.
Jewellery
For Health & Safety reasons, we do not allow children to wear jewellery in our school (this includes earrings). Clear, soft plastic retainers are permitted.
A wristwatch (no smart watches) is allowed, however it must be removed for PE and games.
We understand that certain items of jewellery have religious significance. If parents/carers approach the Headteacher requesting that their child be permitted to wear specific jewellery FOR RELIGIOUS REASONS, then this would normally be agreed. However, for Health & Safety reasons, we may still have to ask children to remove these items during PE and games only.
Hairstyles
There are no specific rules about hair lengths or styles, but long hair should be tied back.
We are not in favour of children having hair dyes, stripes, extensions or extreme hairstyles (e.g. shaved sides, razor-cut patterns or 'Mohican' style), because this can be a distraction to others.
Other
SCHOOL BAGS etc
A school 'book-bag' is advised for children in Reception and KS1. An appropriately sized back-pack is advised for KS2.
Pencil cases are not permitted and not needed in school.
School water bottles are available to buy from the school office. Children should make sure they have a water bottle which can be taken home each day to be washed. Children who bring a packed lunch should also have a drink for lunchtime.
ELECTRONIC DEVICES
For Safeguarding reasons, pupils are not allowed to have their mobile phones or any other 'SMART' device with them at school. Should parents/carers need to contact their child or vice versa during the school day, this should always be done via the school office.
Parents/carers should be aware that the school accepts no liability for the loss or damage to any mobile phones or any other 'SMART' device, which are brought onto the school grounds.
If a pupil is found by a member of staff to be using a mobile phone* at school, it will be confiscated from the pupil and handed to a member of staff, who will store it safely until a parent/carer collects it at the end of the school day. Should a pupil be found to be using a mobile phone* again or inappropriately, then it will be confiscated and a member of the Senior Management Team will contact a parent/carer to collect the phone from school.
Non-compliance with the school policy on uniform and appearance
Where a child is repeatedly not adhering to school uniform policy, we will discreetly try to establish why not. There may be good reasons why a pupil is not attending school in the correct uniform and pupils without uniform can be offered spare items on loan for the day. Pupils will not be made to feel uncomfortable, nor discriminated against, because their parents/carers are unable to provide them with the required items of school uniform.
Lost property/spare clothes
Lost Property is kept in a box which is emptied half termly by the lift. Children should be encouraged to have their name inside their uniform/kit so that any items in lost property can be returned to their owners as soon as possible